From littles that are just learning that crayons leave colorful lines on paper, to aged humans that look to watercolor as a way to escape the craziness of adulting, there is OOLY. One of the best things that OOLY has to offer is that there truly is something for everyone.
If you find yourself looking for creative gifts this holiday season, head over toOOLY and take a peak at all of their adorable options. OOLY is your one stop shopping central for all things bright, shiny, sparkly, creative, and imaginative. OOLY is a family favorite here at Mojitos and Munchkins, and a brand we've come to trust and love for their quality products and brilliant ideas.
OOLY For Kids
Their hands may be little, but their zest for sparkle is bright.Kids adore the outlet that OOLY offers them, with products that are not only exciting to open as gifts, but ingenious delights that will motivate them to create. Crayons and sketchbooks and paint, OH MY!
Girls Can. Oh, yes they can! OOLY has an entire collection dedicated to girl power, and my daughters are thrilled about it. If you're raising strong daughters to be amazing humans, then be sure to check out this powerful line.
Glitter glue with names like Party in a Jar, Ocean Potion, and Pixie Paste speak for themselves. If you can't hear them calling your name, then check out all the glitter and beauty that comes inside!
Noooooo, OOLY isn't just for girls. Boys will love their products too! The Monster collection features everything he needs to take notes and tally scores. From pencils to erasers, pens to notepads, he'll love the scare he gets in showing his friends and being creative using such cool products.
Check out some of our favorite gifts for creative kids.
Chunkies Paint Sticks    |    Big Bright Brush    |    Beeswax Crayons    |     Carry Along Sketchbook
Monster Eraser 3-pack    |     Monster Pens     |     Monster Pencils    |    Pixie Paste
---
OOLY For Tweens
Tweens. They are between ages, between personalities, and between interests. Tweens are sometimes the most difficult to shop for when it comes to gift giving, but it doesn't have to be hard. One thing is certain about Tweens however, and that is that each of them can find something to love from OOLY. From glitter pens to mini journals, scented erasers to themed pencils, OOLY is bright enough to catch interest but mature enough to not feel too young. OOLY is cool, creative, and courageous!
This Lollipop Scented Pen smells like snow cones. Do I really need to say anything else? Not only is it bright, colorful, and manages all the doodles, but it smells. like. snow. cones!! If snow cones aren't your thing, you have many others scents to choose from including gummy bears, donuts, cookies, and more. Shop for this pen in the adult section below because, duh, I wanted one too!
Who remembers clickable pens from their youth? I sure do! These clickable gel pens pack a lot of punch in just one writing utensil. This alleviates the need to travel with a bulk pack of colors because each pen holds SIX bright and fun colors!
This little unicorn went to the end of a rainbow, this little unicorn stayed home… This little unicorn ate multi-colored cotton candy dipped in sprinkles, this little unicorn had none…. No, seriously! How cute are these unicorn erasers?? 
Check out some of our favorite gifts for creative tweens.
OOLY For Adults
Why should kids have all the fun?
Now they don't have to because OOLY has plenty of fun ideas no matter your age. Even moms and dads can tap into their creative sides with paint, pretty pens, and beautifully bound journals.
Pastel liners for the win! You can use them for work meetings, book club, or even share them with the kids if you dare!
The Chroma Blends collection is calming, beautiful, and oh so fun to use! By combining the watercolor brush markers and the pearlescent paints on the heavy weight paper, you can get a variety of looks depending on if you add water or leave dry. It is a fun set to play around with as you create pieces to be proud of. Warning: Your kids and tweens will DEFINITELY try to steal these for their own!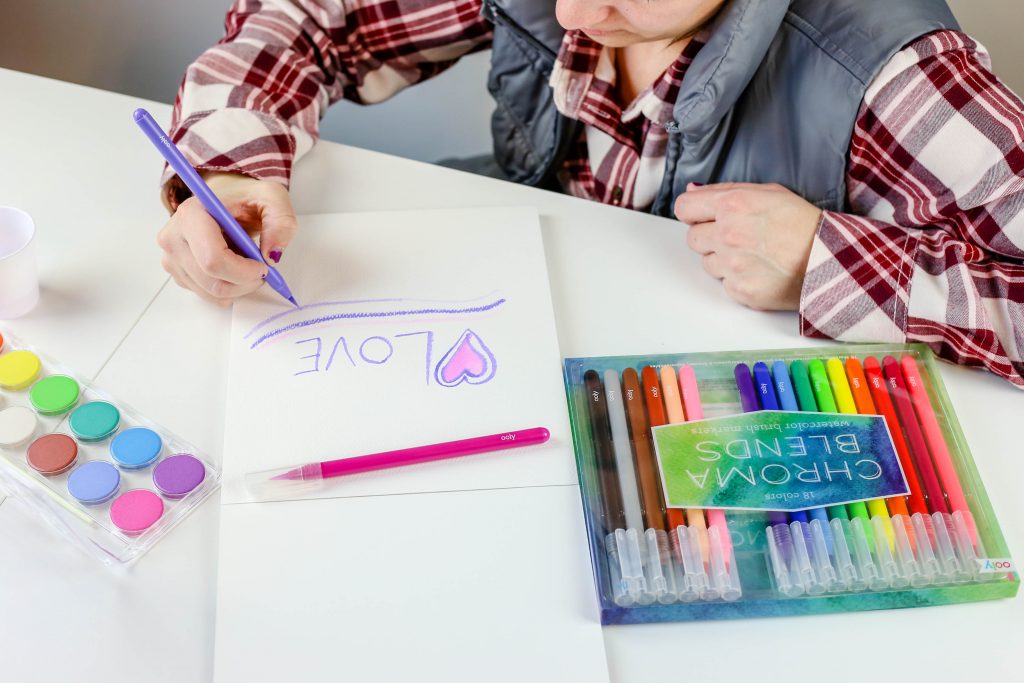 Check out some of our favorite gifts for creative adults.
If you haven't yet experienced the magic of
OOLY
, I suggest you do a little shopping. Each click will yield something cuter than the last, and you will feel more creative just by looking through their
crafting ideas
. They offer
great gifts
,
stocking stuffers
, and craft supplies for every day use. Another reason I love this company is because they give back! As a former classroom teacher, I know how much I spent in school supplies each year. OOLY tries to lessen the burden to teachers by partnering with
Adopt A Classroom
.
Photo Credit: Mojitos and Munchkins