Spoiler Alert: New dogs rarely come home fully potty trained. The process can be a messy one as the learning takes place. Additionally, staying on top of a dog's hygiene can be a timely and expensive thing. Fear not, there are companies out there who want to make life easier for dog owners. Let me introduce you!
Grooming Needs
Pet Stain Eraser
---
If you want a well groomed pup who will look fresh from the salon without spending a small fortune, then Cowboy Magic is for you. First created for their equestrian friends back in the '70s, Cowboy Magic has expanded it's clientele to include dogs and even humans! Yes, you read that right! Cowboy Magic, from Straight Arrow Products, Inc. is safe to use for all types of hair and works magically to restore moisture and shine.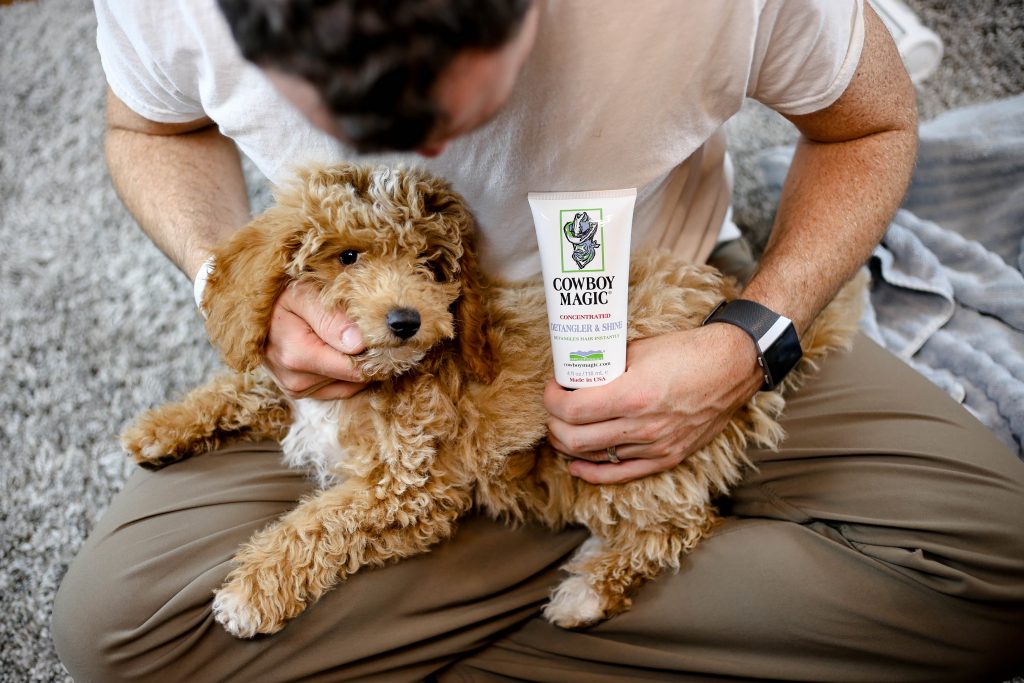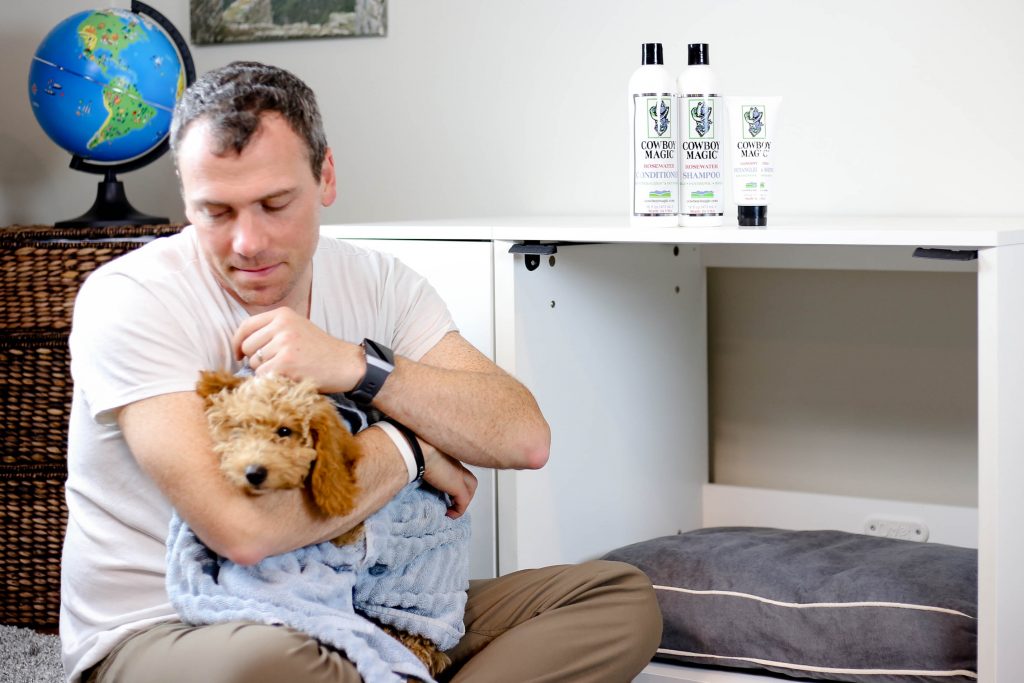 They have a variety of products to choose from, with each specializing in a different area of grooming maintenance. 
Rosewater Shampoo.
Start your dog's beauty regiment with the sweet smelling Rosewater shampoo. It dissolves dirt and gently cleans your loved one, with just one small squirt! A little goes a long way with Cowboy Magic, meaning your dollar is stretched without limiting the quality delivered.

Rosewater Conditioner.
Next up in the beauty routine is the corresponding Rosewater Conditioner. It smells just as sweet, and easily scrubs out minerals, chemical build-up from swimming and product use. Better yet is the fact that it adds body in the process. Cowboy Magic products are allergy tested and dermatologist approved, meaning great results without causing complications. 
Detangler and Shine.
The Detangler and Shine is something you'll be moving between your dog's grooming supplies and your own personal vanity. With no alcohol or water added, it is able to shine your hair without drying it out thanks to a special silk protein. It detangles as you scrub it in and repels dirt, dust, and sand. These are all good things to repel if your dog spends any amount of time outside amongst the elements.

Super Bodyshine.
The aloe vera included in Super Bodyshine gives it a super concentrated, ultra effective remedy to boost full body shine! This is perfect for a salon quality look for the pets you love, whether they are heading to the show ring, a family holiday party, or simply want to look their best!

Greenspot Remover.
If your furry friend is already in your house, you know that there are embarrassing moments when her business gets stuck to her backside. Perhaps it happens when she is training in her kennel, or when she is due for a groom. Regardless of the reason, it always seems to happen when you don't have time for a full bath. For these times, there is Greenspot Remover to melt away sweat, dirt, manure, urine, and more. This is great for on-the-go cleaning as you can use it wet or dry, and all you need to activate it is a damp cloth! The makers at Cowboy Magic were pure genius with this product!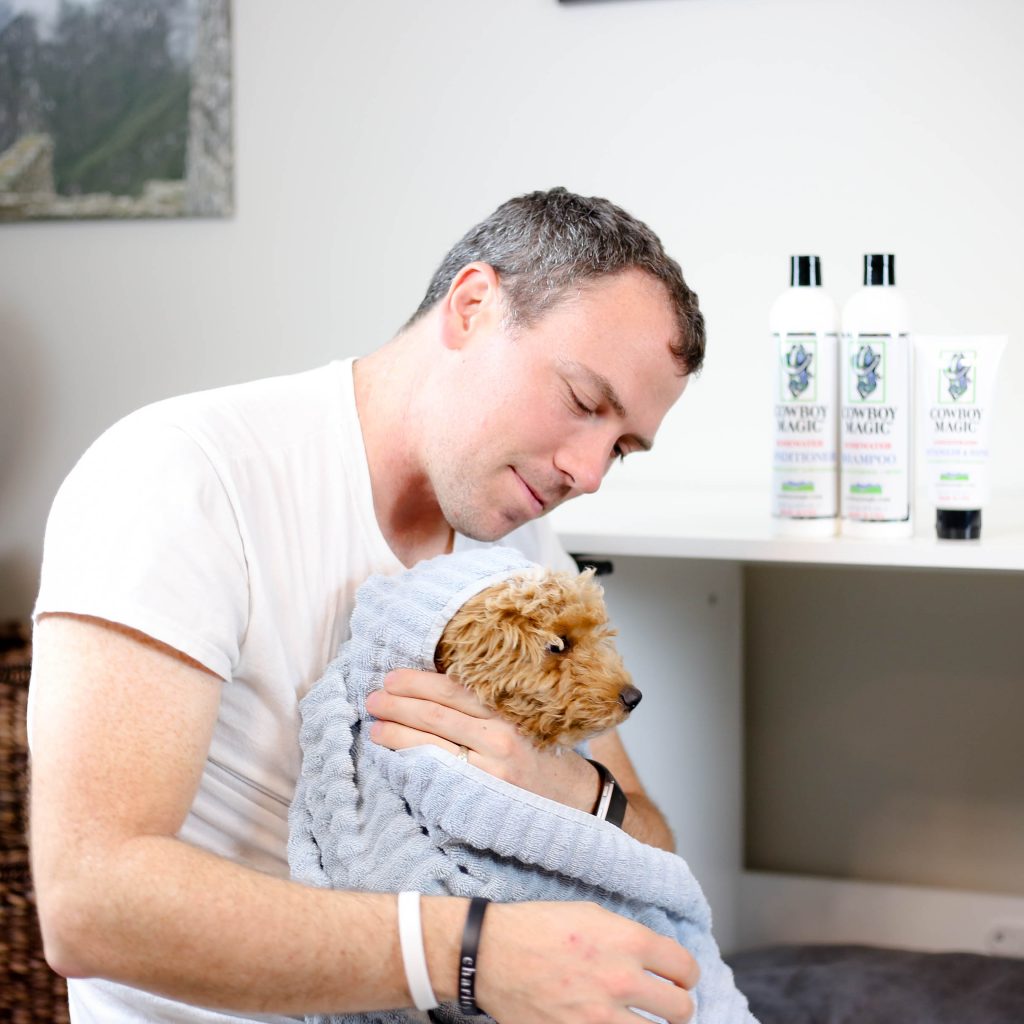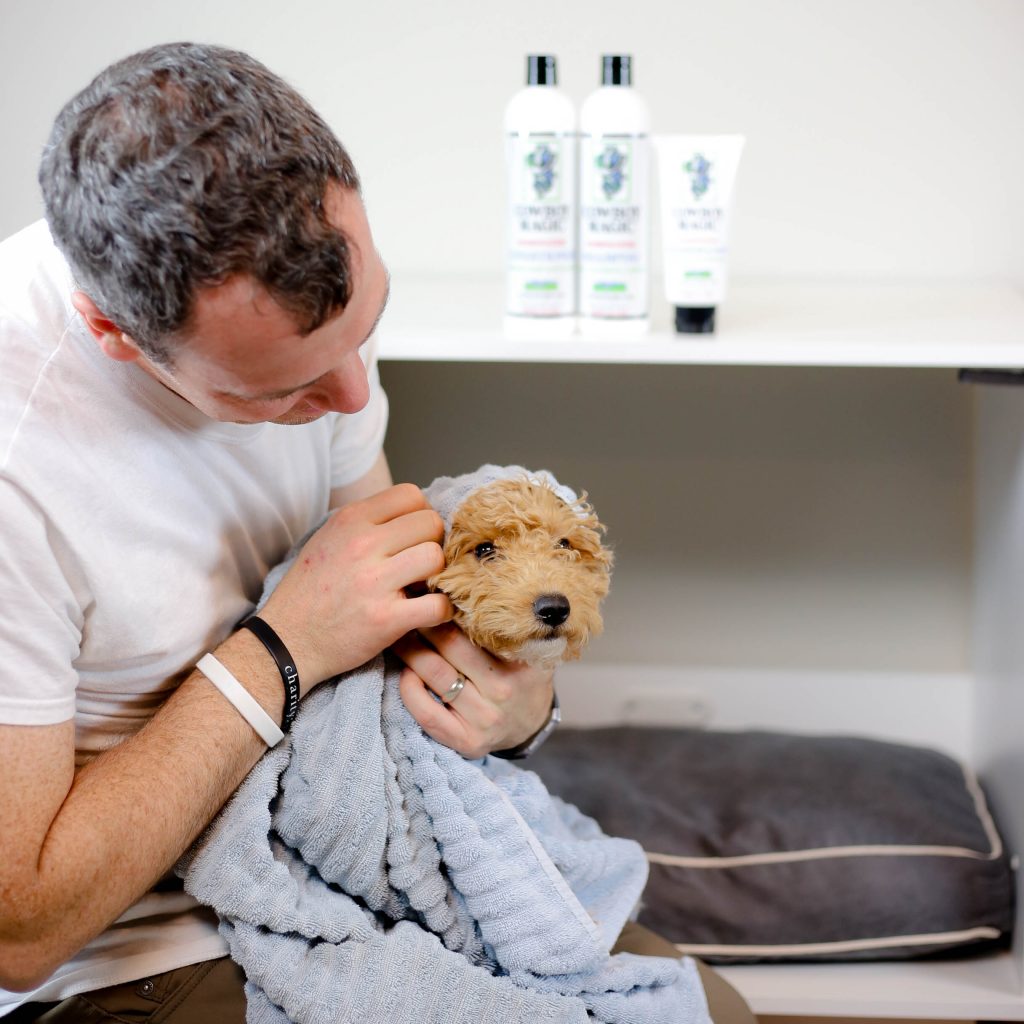 From show dogs, to furry family member,s to curly haired kids, these products are 100% loved in the Mojitos and Munchkins household. Dog boards and canine support groups across social media boast constant comments about Cowboy Magic working miracles on matted fur coats and smelly dogs. Even Santa Claus himself supports Cowboy Magic!
FUN FACT: Puppies are said to be able to hold their bladders up to one hour per month of age. For example, if a new puppy comes home at 2 months of age, they should be expected to hold their bladder for approximately 2 hours. If a puppy comes to you at 4 months of age, they could hold it closer to 4 hours. Keep this in mind when setting realistic expectations for your new dog. 
Follow Cowboy Magic for all of your grooming needs: 
Cowboy Magic | Instagram | Facebook | Twitter | Pinterest | YouTube
Our picks: Magic Detangler and Shine | Rose Water Shampoo | 
Rose Water Conditioner | Greenspot Remover | Super Body Shine
---
Dear BISSELL: Carpets everywhere are thanking you for your service. Your undying dedication to clean up after our pets is unmatched and completely appreciated. 
BISSELL is a company known for their quality cleaning products, but what you may not know is that pets are their top inspiration. In addition to great overall options, BISSELL also donates a percentage of each pet product to helping pets in need through their BISSELL Pet Foundation. 
The BISSELL Pet Stain Eraser is a MUST for new dog owners. In short, it is a cordless and handheld miracle worker; one that can clean pet stains anywhere, anytime, and in any location. From area rugs to vehicles, upholstery to carpet, there isn't a stain that it can't cure. It works in 3 easy steps: Spray, Scrub, Suction. The lithium-powered handheld cleaner takes mere minutes to operate, and has a battery run time of 15 minutes. That is plenty of time to clean up and get back to snuggling and training your new family member.
The BISSELL Pet Stain Eraser also comes with Professional Spot & Stain + Oxy. This ready-to-use formula requires zero mixing, so will be ready to help your rugs and couches at a moment's notice. After adding the solution to the handheld cleaner, give it a few quick sprays. Then, use the Pet Eraser to scrub the area. Lastly, suction up the water and debris so that it can be dumped and cleaned.  
Common side effects of adopting a new dog may include: Potty training accidents, muddy footprints, dirt eating, spilled cups of juice and coffee, grass stains, chewed upholstery, water spills, tired humans, and more. 
Our advice: Don't wait for the spills and messes to happen. Instead, choose to be proactive by stocking your closet with this affordable cleaner. 
In addition to keeping pet beds, couches, flooring, and entry way areas clean, the Pet Stain Eraser also works great in vehicles because of it's on-the-go ease of mobility. It doesn't have to be dogs and kids that make messes, as even grown-ups are capable of spills. Chocolate, soda and food are no match for this cordless cleaner. The ease of use in this tiny vacuum is unparalleled, and results will leave you loving it.
Follow BISSELL for all of your cleaning needs: 
Bissell | Instagram | Facebook | Twitter | Pinterest
Our pick: BISSELL Pet Stain Eraser
For our other
dog faves,
Dog Essentials article
be sure to click on over to our where we talk about our favorite products for new pups. If you want to keep up with the
cute pup in this article
, be sure to follow
Lainey Lou the Doodle
on Instagram! Sweet Lainey Lou is a goldendoodle pup. As an alleged F2 Mini Petite Goldendoodle, we've been told that she would grow to be between 15-25 pounds, but her big feet and veracious appetite lead us to believe otherwise!
If you've recently brought a new pup into your house, or are thinking about it, be sure to check back back tomorrow for our suggested puppy essentials in our New Dog Checklist.
Photo Credit: Mojitos and Munchkins
The companies mentioned in this review sent the above products free of charge for the sake of this article. I was under no obligation whatsoever to write a good review or to write any review about these products. All opinions expressed are mine based on my own personal use of these products.