Fun Forest Stage
The Fun Forest Stage is home to great shows, an energetic vibe, nearby bathrooms AND playground equipment.
This pink and blue duo is creatively talented, remarkably energetic, and puts on a show that is oodles of fun. Combining childhood charm with great voices, these artists have what it takes to fill the seats at Fun Forest. Returning for their second year at the Iowa State Fair is…. The Dollipops!
Get ready to climb on the candy coaster and make all of your traveling dreams come true! Advance tickets are not necessary, and Dolli and Pop will do all of your packing. What do you have to lose? Hailing from the land of 10,000 lakes, these candy loving ladies will have daily shows geared towards crowd participation, energizing dance moves, and a boot-skootin', rip roarin', leave-it-all-on-the-stage good time. You won't want to miss the party!
As if you need another reason to make it to one of The Dollipops shows, did I mention they are currently looking to round out their band with local ISF talent? Oh yes, they are! You could be just what they are looking for as they let a variety of ages and talents join them on stage to audition for this once in a lifetime opportunity. Do you have what it takes? Are you ready for a good time? The Dollipops will choose a select group of talent from the crowd, and those lucky chosen will get to perform in the band alongside Dolli and Pop.
I love Dolli and Pop! They are my FAVORITE! I'm a part of their band and I got to play the piano with them, because I'm going to be on stage just like them when I get older. They're my best friends.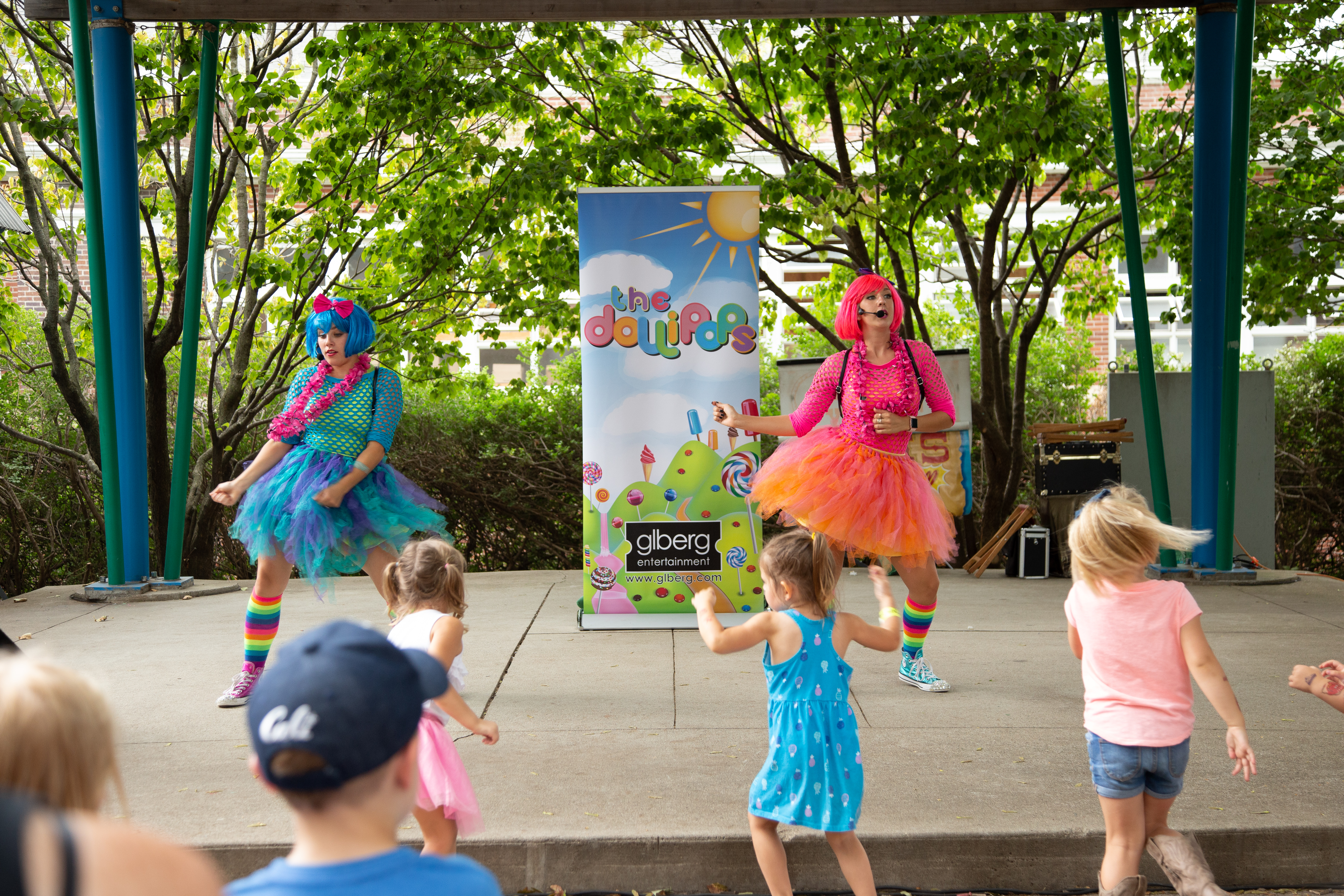 Catch The Dollipops at the Iowa State Fair from August 8 – 18
Appearing on the Fun Forest Stage EACH day at 12pm, 2pm, and 4pm.
You won't want to miss it!
Don't miss out on any of the fun!

Click through the slideshow

below to see more of The Dollipops.
Also, be sure to look for Team Travels Over Toys this year at Fun Forest. We'll see you there!
Dear Dolli and Pop!
Thank you for letting us be a part of your band in 2018. We came to multiple shows per day… Every day. {Our parents were thrilled!} Will you please pick us again? We live in your home state of Minnesota, and keep up to date with you on your Dollipops website, Facebook, and Instagram. Each summer, we travel to the Iowa State Fair with our family and YOU are the show we love most!! We were thrilled to find out you were coming back to see us again! We love it when you let the kids dance along with you, and look forward to jumping on your Candy Coaster and (fingers crossed!!!!!) get to be IN YOUR BAND! Love, The Travels Over Toys kiddos
P.S. Did you bring the air guitar and pink hair again?? (SHRIEK!)