The holidays are right around the corner, which means that the hustle and bustle of life are about to approach a category 10 on the stress meter. Stores will be packed, Santa will be making the rounds, and (with any luck) deals will be running rampant. If you're already on the prowl for the best the year has to offer, look no further than these wonderful products! From stocking stuffers to wrapped gifts under the tree, Hanukkah finds to "gotta have it now" ideas, check out some of our favorite recommendations.
This holiday season, give the gift of warmth and fashion to the children in your life. Melijoe.com offers fashionable and unique clothing options for children of all ages. Whether shopping for warm winter wear, festive holiday outfits, or the basics, there are a plethora of choices to consider.
The Mayoral Printed Padded Coat is the perfect choice for cold weather and outside fun. This waterproof jacket boasts a large hood, long sleeves, zip front pockets, and a camo print, making it FUN, FASHIONABLE, and WEATHER APPROPRIATE! 
Ranging in sizes from 10 years old to 16 years old, this coat is a fabulous choice for the big boy in your life. It will keep him warm and protected from the elements because of the padded paneling and overstretched hoodline. The front pockets are large enough to hold all of his winter accessories, including hats, gloves, and more. Better yet is the fact that the coat comes with a drawstring pouch that it can be fit into in the off season for safe keeping. That means you don't need to find space to hold a bulky winter coat, but simply slide it away when the weather warms up.
Because it is machine washable, the Mayoral Printed Padded Coat is a wonderful choice for both school and play. From snowball fights in the backyard to basketball games on the playground, it cleans up nicely so you won't need to stress about the dirt and grime that comes with mothering young boys.
Melijoe.com was created in 2007 by a young mother from Paris who was passionate about fashion and her young children. Nathalie Christen-Genty & the team to 80 people founded Melijoe.com and, as a now mother of 5 kids, leads a team of 60 people to bring children's fashion trends to mothers across the world. United in our efforts to dress our kiddos in options that we (and they!) can feel (and look!) good in, it is a reminder of how small our world really is.
---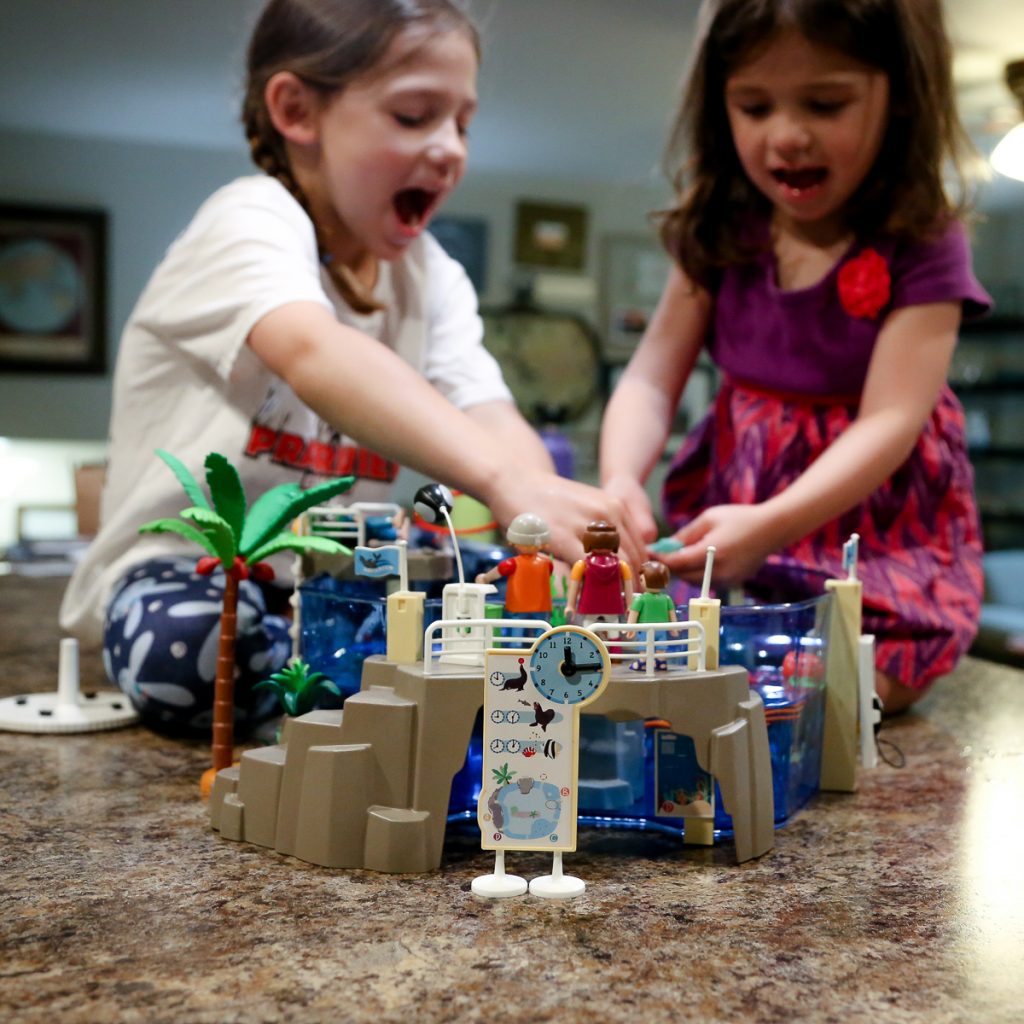 There is something so pure and inspiring about the classics. The classics, like Playmobil, should certainly come to mind when it comes to holidays and gifting. Playmobil has been doing it right since 1984. Although their selections have expanded and their options modernized, the quality and integrity that comes with a Playmobil set has been unwavering.
Playmobil truly has options for everyone, with endless products to shop from and an always growing inventory. From sports to city life, vehicles to animals, what set would the children in your life love? What sets do you already have? A current family favorite here is the Aquarium Building Set. Included in the set are people, ocean animals, and all the parts necessary to put on a good show at an aquarium. It even holds water (no leaks!) for realistic play.
Another suggested set is that of the Magical Fairy Forest. Calling all fantasy fans! This whimsical world includes three fairies, two unicorns, forest animals, a treasure chest with gems, and so much more! To accompany the set, there is also the Fairy Garden Play Box and the Mystical Fairy Playset. The tree lined forests and hidden enclaves are the perfect setting for children to create a fairy world of fantastic fun.
For smaller sets, the sky is truly the limit! If sports are of interest, check out individual NHL players like this Minnesota Wild goalie or the Extreme Sport Skater. For entertainers, there is the Playmobil Singer on Stage and Singer with Keyboard set. There is even something for animal lovers with the Large City Zoo and the Pony Farm.
---
Charm It!
A charm bracelet or necklace is the most perfect gift because it is ageless and can quickly turn into a tradition. Regardless of hobbies and interests, each jeweled base serves as a starting point to celebrate the unique personalities of the loved ones on your list this holiday season.
Charm It! has found a way to turn typical into transformational with these jeweled gems. As a base, select either a Charm Bracelet or Charm Necklace. Both are offered in gold and silver, as well as other colors. Additionally, all bases are fully adjustable to be able to fit a variety of sizes.
Once the base is chosen, the sky is the limit with how to personalize it. This is the fun part! From giving a yearly charm to slowly (but surely) adding interests, charms can be used as a gift to celebrate a milestone, birthday, or holiday. Each unique piece is uniquely created and is guaranteed to be lovingly adored by the recipient.
Charm It! is a perfect go to gift whether you are wrapping or stuffing a stocking. Because of their small size, they can serve as both a filler item as well as a stand alone gift. Each piece will be cherished for years to come and can easily become a daily fixture to show off and love.
---
Slime is all the rage right now, and with good reason. What isn't to love about neon colored goo that can slip, slide, and slither right between your fingertips. What you get with Zimpli Gelli is a cut above the competition with its' integrative design.
For the most exciting bath of a life time, Gelli Baff lets you turn water into goo and then back to water again. By simply adding the powder into bath water, a thick and colorful goo surrounds you, giving you plenty to play and splash around in. When finished, add a second "dissolving" powder and bath water returns to its' original state. Kids will think you're the coolest mom, dad, aunt, uncle or friend of the family if this gift is wrapped with your name on it!
Another exciting option is Gelli Slime Dinosaur World. Perfect for children ages 3 and above, this set has everything necessary to create a jurassic world. Complete with a tray, five bags of green gelli powder, and 8 dinosaurs for interactive play, this kit will lead to hours of imagination and creativity. Just add water and let the game begin! Whether using it in the classroom to teach about prehistoric times or in the comfort of your home, the Gelli Slime Dinosaur World is jam packed with fun.
In less than 2 years, Zimpli has racked up an astounding 4.5 views on YouTube, most of which highlight the Gelli Baff and Slime Baff. Be sure to check them out on YouTube to see both products in full view! In addition to neon colored excitement for kids, parents should know that all products listed here are 100% safe on skin, non irritant, and environmentally safe.
---
The Kidzlane collection has something for everyone. Whether you're shopping for a mini scientist, an aspiring musician, a kid who lives for play time, or one who has a wild imagination and loves to pretend, Kidzlane is a one stop shop for all things fun.
For the ultimate in conversation, Kidzlane Durable Walkie Talkies is a great choices for siblings, cousins, friends, or even parents. The large talk button makes it user friendly for younger children. The clear audio is a dream come true for parents who don't want to see their children frustrated. The durable exterior of these walkie talkies makes it child-friendly when it comes to drops and kicks, bottom of backpacks and under beds. This is a win/ win toy for families that like to have fun together. Whether spying on parents or using it to talk across yards, the Kidzlane Walkie Talkie set is sure to bring fun to the neighborhood. With a range of 2 miles and 3 channels, it is quality AND quantity packed into one. It comes in either blue or pink, or collect all four so no one feels left out.
For family fun that is sure to get parents involved, there is Kidzlane Laser Tag Game. With infrared technology and four included guns, there is one for everyone! Coming in colors of red, blue, green, and orange, there are 4 teams to take over the neighborhood. There are also four different modes to choose from so each player can choose the sound effects that they want. This laser tag game comes complete with vibrations and lights, and clearly shows life bars so you know where you in standing. The Laser Tag Game includes a shooting distance of 130 feet, making it ideal for both indoor and outdoor environments.
Kidzlane prides themselves on offering fun and affordable options for parents when it comes to shopping. They also strongly believe in quality interactions between children and parents. With an end goal of connecting families through play, this is a company that stands behind their products and offers a variety of options for all of the littles in your life.
---
For the self-inspired movie director in your life, give them the supplies and creative platform to make their editorial debut. StikBot is an affordable way to showcase imagination and channel creativity.
StikBot, by Zing, has product selection for everyone. Whether you're looking for a StikBot pet to film or want an action pack to play with, there are SO many choices. They even have an app that you can download to capture and create. It is simple to navigate and allows users to create and share their stop animations with the world.
A favorite accessory for StikBot characters are the movie sets. Each movie set comes with a buildable set. Once created, your child will bring their imagination and the movie script of their choice. It is fun to build, exciting to create, and thrilling to share the end product with others. One of our favorite movie sets is the Dino Movie Set. Create a prehistoric playground with the dinos either inside the secured pin or outside. Add in the StikBot action figures of your choice and you'll be on your way to your blockbuster debut!
The StikBot action figure 8-pack is a great choice if you're looking to get your child started or if you're looking to add to his or her collection. Each of the 8 posable figures comes in a different color and all can adhere to virtually any surface. The StikBot Pet Action Figures are irresistibly cute and adorably made. The set includes 1 blue bulldog, 1 red bulldog, 1 brown dog, 1 green dog, 1 brown monkey, 1 blue monkey, 1 red cat, and 1 green cat. Just image the animations that kids can create with this great set!
---
For the princess in your life, get ready to embrace Fancy Nancy looks at peasant prices. Parents everywhere will love the affordable options and children will go crazy over all of the sparkles, shine, and accessories! From dance tutus to ribbon halos, wands to wings, there is an accessory for everyone no matter your size or color preference.
Dance tutus come in four popular colors and are made from 3 lush layers of tulle. They fit babies up to 10-years old. Theses are perfect for dance studios or the home dancer who likes to dress the part. The satin encased elastic waistband allows for a comfortable fit and the price point allows you to shop for friends as well. The layered tutus are approximately 10″ long and go from 14″ – 26″ along the waist.
Wings are another great accessory piece, whether complimenting tutus or wearing solo. Fairy, angel, butterfly, lady bug and pixie wings, all come in quality materials and in a variety of color choices. Whether your wing wearer twirls or glides, flies or crawls, she will feel like a star with this fun find.
Ribbon Halos are the perfect accessory for your princess loving lady! Coming in a color selection of 14 different options, everyone will get their first choice! They are perfect for fairy or princess parties, slumber parties, dance recitals and more!  The ribbon halos come semi curly and are primped and ready to go right from the box! Each halo comes with around 64 strings, and DressUpWholesale will even customize colors to match a specific theme or team. Ribbon Wands are a great accessory piece to go with ribbon halos and are available in matching colors.
---
Anyone with children knows how wildly popular these smooshy concoctions of excitement are. If your house isn't already filled to the brim with them, now is the time to gift Smooshy Mushy's to your favorite kids.
Coming in a variety of options, each Smooshy Mushy is made from ultra soft material that will promote happy squishing. Once compressed down, the material slowly rises back to it's original state after a short pause. Thus, the continual love of playing with the smooshy mushy. There are many different samples to choose from within the Smooshy Mushy family.
TheSmooshy Mushy Core Series 2 comes with a fragrant smooshy pet, a mini-smooshy, stickers, a mini bottle, name tag, and collector poster. Similarly, the Smooshy Mushy Babies are wrapped inside of a bottle that gives the illusion of real liquid. The Babies series offers 6 different sets and includes a scented squishy baby plus a plushie, in addition to a name tag, sticker, mini bottle, birth certificate and collector's poster.
Whether the good are wrapped inside of a bottle, an ice cream cone, a smoothie container, or some other habitat, one of the most intriguing characteristics is the element of surprise. Although you may have an idea of the products inside, each is uniquely qualified to cause excitement and squeals of delight.
---
This holiday season, spoil your littles with gifts they really want. From warm weather gear that they will delight in year round to stocking stuffers that will excite them long after the holiday decorations have been taken down, get your loved ones the gifts they will love.
Photo Credit: Mojitos and Munchkins