New puppies have endless energy, amazingly sharp baby teeth, and a bladder (seemingly) the size of a pea. They also have a desire to please their owners, social behavior patterns that are not yet in sync with their bodies, and insatiable appetites. In many regards, a new puppy is like a new baby. Sorting through what you really need in order to help your new pup be successful can be an overwhelming task. Fear not, Mojitos and Munchkins has done the research for you!
The Snuggle Puppy Starter Kit is the absolute best box you can find for your new pup. From night one, your furry friend will delight in the calming force of her Snuggle Puppy. Together with a mama-like heart beat and the heated comfort that will remind her of her litter mates, this stuffed animal will be something that she can count on through scares, new homes, tiny humans, and dark rooms.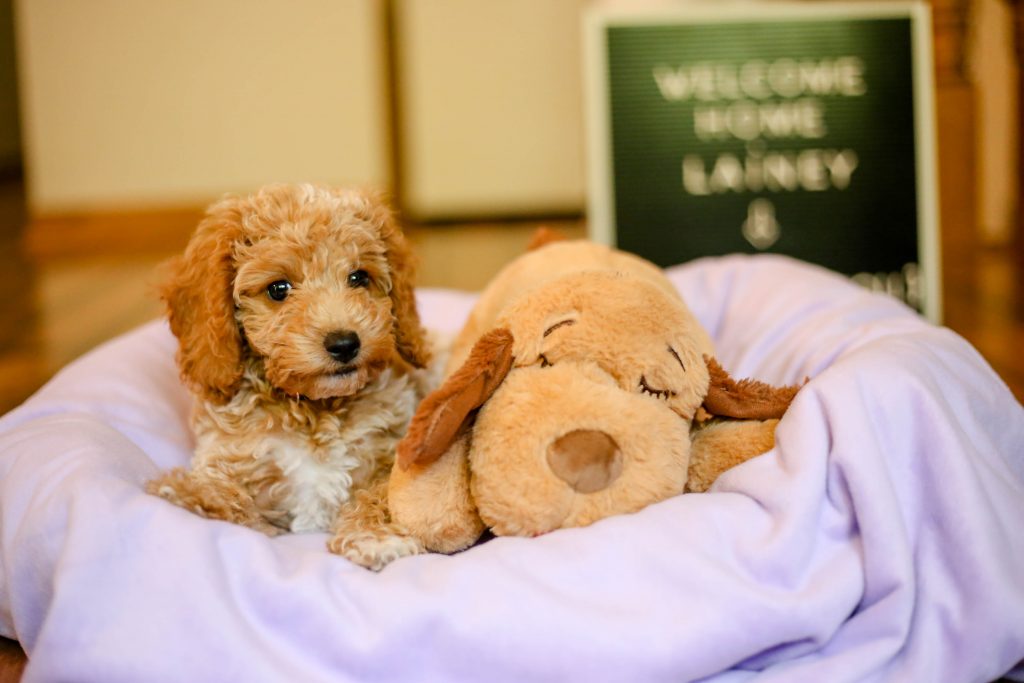 The Snuggle Puppy will keep your pup loved and snuggled even when you can't be there yourself. Whether during the work day or at night while she sleeps in her kennel, Smart Pet Love has all of the accessories for companionship. Your pup will never tire of this emotional support friend, as it can provide comfort during storms, fireworks, traveling, or even during the dreaded vacuuming that humans tend to do.
In addition to the Snuggle Puppy, Smart Pet Love's starter box also includes extra heat packs and a fleece snuggle blanket. Not only is the blanket snuggly, warm, and easy to transport as your pet needs it, but it is machine washable. Dog parents everywhere, rejoice! A teething aid and puppy's first toy complete the box.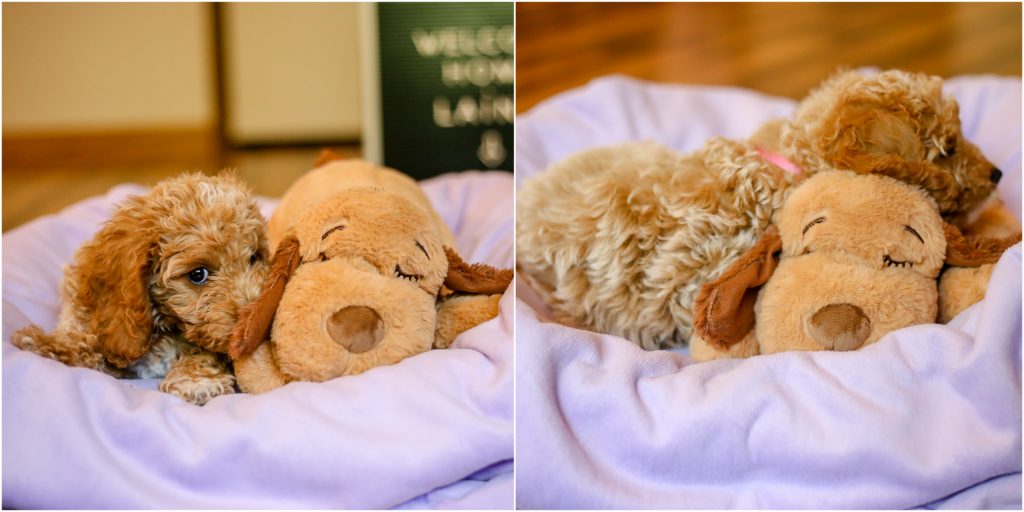 Take a look at our video showcasing Smart Pet Love:
Follow Smart Puppy Love for all of your dog's emotional needs:
Smart Puppy Love | Instagram | Facebook | Twitter | Pinterest
Our picks: Snuggle Puppy Starter Kit | Snuggle Puppy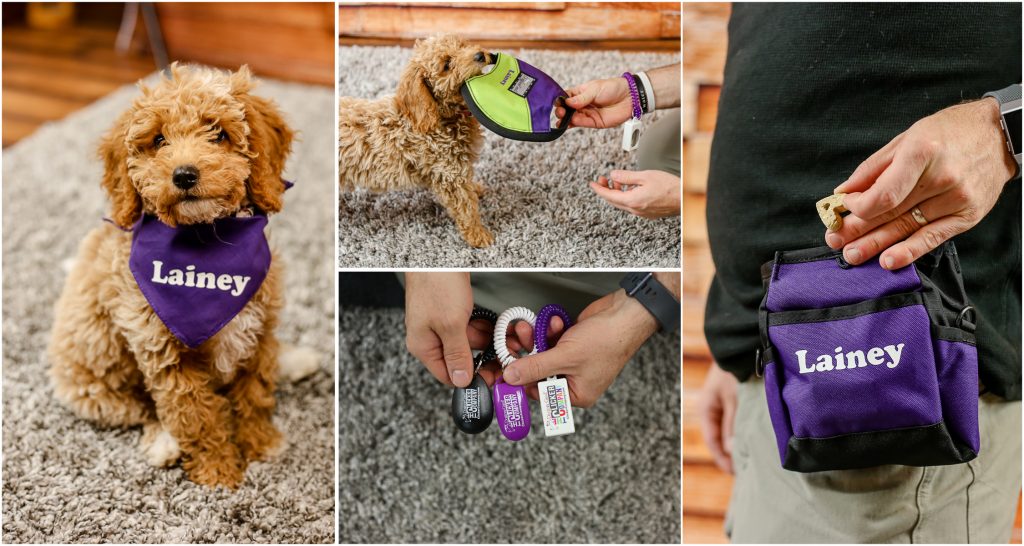 One thing is certain with bringing a new puppy home. That certainty is that the new puppy will bite. And nip, and chew, and bite some more. Puppies aren't trying to be mean and they don't have a genuine desire to chew your favorite Sorel boots or the newest Playmobil creation in your house. Quite the contrary, puppies necessitate biting in the same way (and for the same reason) that a toddler needs to chew when teething. The teething and chewing alleviates the pain and soothes sore gums.
Dog training done right includes consistency, a good plan, and many treats. Why are treats essential to train dogs you may wonder? Dogs are often food motivated, which means they will perform certain behaviors if rewarded by a treat. Based on the Pavlov theory of classical conditioning, dogs will soon begin to associate a treat with a simple command such as "sit" or "off" or "come." In doing so, they will eventually perform the act even if no treats are provided because the two stimuli will be combined in their heads. The Rapid Rewards Treat Pouch with belt is instrumental in delivering treats at the right time. It fits easily onto pockets, belt loops, and more. The magnetic closure allows you easy access to the treats and there are plenty of hidden pockets to store your valuables when you're out for a walk.
Doggone Good! is a one stop shop for all of your customized doggie needs. The Personalized Deluxe Click & Play Pack includes everything you'll want to keep your pup on track to being a well behaved family member. With customization within the pack, you're guaranteed to get the products, colors, and sizes that are perfect for your dog's personality. Included in the Click & Play Pack are:
Personalized bandana: Sooooo cute!
2 Collapsible bowls: Perfect for travel and walks
Personalized Frisbee: No one will still your favorite toy at a dog park!
3 clickers with matching wrist coils: Yes, you'll need more than one for proper training
Personalized drawstring bag: Perfect to pack all of your dog's needs
Rapid rewards treat pouch: Easy access to treats is paramount to training!
Customized choice of font and sizes for all products
Bonus training booklet of either The Puppy Survival Guide or Gentle Hands Off Dog Training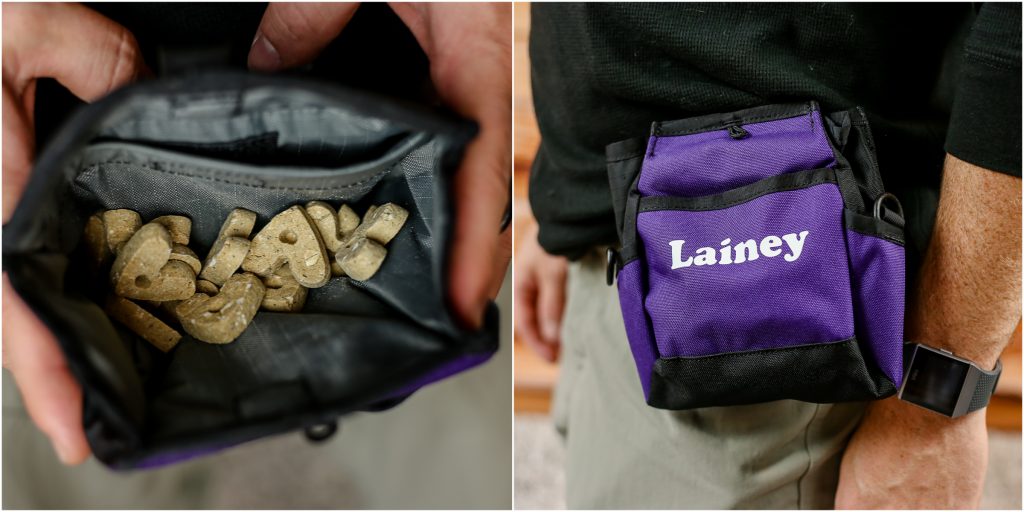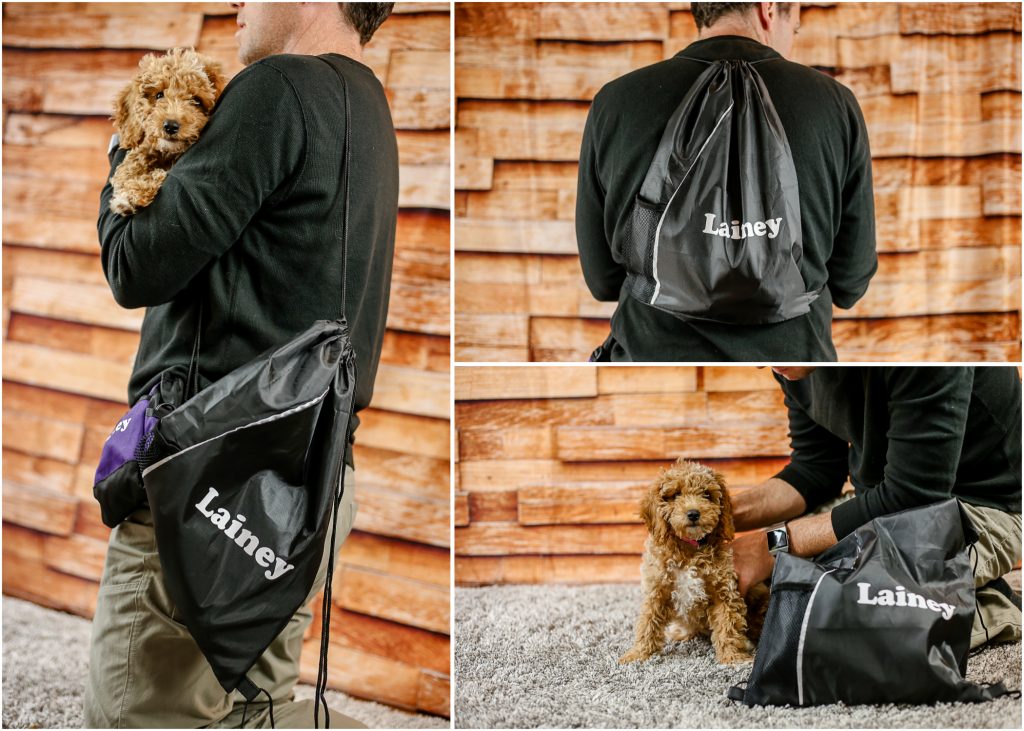 Take a look at our video featuring Dogg one Good! Clicker Company:
Follow Doggone Good! for all of your training needs at:
Doggone Good! | Instagram | Facebook | Twitter | Pinterest

Our picks: Rapid Release Dog Treat Bag with Clicker and Wrist Coil | Personalized Deluxe Click & Play Pack
For those times when you want to keep your pup safe, but give them room to run and explore, there is SUREswivel.
With 360 degrees of free range motion and tension free pull backs, our pup is in absolute bliss with this great tethering system. Gone are the days of trying to untangle a hyper dog, putting her at risk of strangulation and pain.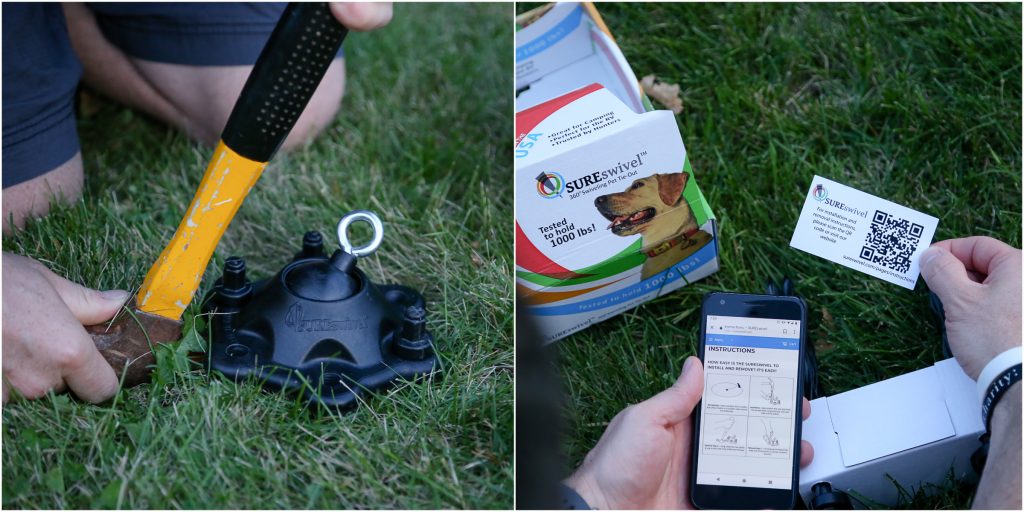 This grass roots company out of California is a classic example of where there's a will, there's a way. They filled a void in the market to ensure that their pet's safety was being met while ensuring that it got plenty of exercise time on the tether. We're so thankful they decided to share their idea with the world, and now we're excited to share it with you. It is easily (and quickly) installed using only a hammer, making it a great choice for families who want something quick and easy for their new dog.
The SUREswivel is perfect for backyard bliss whether you're at home or away. Better yet is getting one for your own backyard and another to take on the road with you. From camping trips to visiting family and friends, there is nowhere the SUREswivel can't go. The secure anchoring system leave it impossible to be pulled out by dogs, but painless to remove when ready by humans. It can safely secure up to 1,000 pounds of movement, which means it is a great choice for animals large and small. It can even be used by more than one pet at a time and STILL guaranteed to keep tangles at bay.
Take a look at our video showcasing SUREswivel:
Follow SUREswivel for all of your outdoor safety needs:
SUREswivel | Instagram | Facebook | Twitter
Our pick: SUREswivel 360 degree swivel tie-out
If you want to keep up with the
cute pup in this article
, be sure to follow
Lainey Lou the Doodle
on Instagram! Sweet Lainey Lou is a goldendoodle pup that came to live with our family in September 2018. We are all in love with this little bundle of fur, and anxious to see how "little" she stays! As an alleged F2 Mini Petite Goldendoodle, we've been told that she would grow to be between 15-25 pounds, but her big feet and veracious appetite lead us to believe otherwise!
Photo Credit: Mojitos and Munchkins
The companies mentioned in this review sent the above products free of charge for the sake of this article. I was under no obligation whatsoever to write a good review or to write any review about these products. All opinions expressed are mine based on my own personal use of these products.