**Our giveaway has closed. Congrats to Mojitos and Munchkins reader Lissa Fulkerson on being randomly selected to win a personalized & signed copy of the book!  ENJOY :)**
Join me in celebrating our differences with this wonderful new children's book, Lily's Deliciously Different Day! by Yvetter Grove.
A particularly rough day at school leads Lily to decide that her life would be better if she could be just like everyone else. In an unexpected turn of events, Lily's wish comes true and she suddenly faces a world where everyone and everything are the same. But life in this world is not better, in fact, Lily learns that our differences are what make the world work. It is Yvette's mission to tell children of all ages that they are essential and that the world is better when they are themselves.
The artwork by Tabitha Bogard is whimsical and magical, as it elaborates on Lily's adventures to find herself. From cover to cover, this riveting book tells the story of a girl who thinks she wants to fit in and be like everyone else… Until it happens. She finds encouragement in those around her to be authentic and true to herself. Then, and only then, does Lily realize that the world wouldn't work if everyone is identical. Each of us brings our own unique ingredient to this recipe of life, and we enhance the flavors and textures of those around us simply by being the best versions of ourselves.
Lily is a remarkable reminder to stay true to yourself, be kind to those around you, and lovingly accept the differences of those you meet without judgement or fear.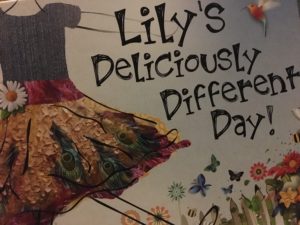 Do you want to get your hands on your own copy? Enter this delicious giveaway for a signed copy of Lily's Deliciously Different Day! from author Yvette Grove.
Can't wait??  …I don't blame you. Get your copy today at Amazon!