Is there anything better than getting the family together and heading out on the open road on a fun adventure together? The whole of the USA will be your oyster as you travel from town to town and city to city, exploring the country's best bits and soaking up all of the different cultures.
Thanks to the very nature of a road trip, it can be as organized or spontaneous as you want. It makes sense to book a few rooms along some points of the trip. After all, knowing you will have a bed after particularly long stretches of driving will be something you will be thankful for. However, you might want to leave a few nights without reservations so that you can take advantage of the open road and go wherever you fancy. After all, most of the fun of road trips comes from being able to change your plans at the last minute and get off the beaten track to see some awesome sights and attractions.
Are you and your family ready to pack up the car and head out on a fantastic adventure of a lifetime? Here are some of the top destinations for USA road trips, all of which are family friendly!
Seattle, Washington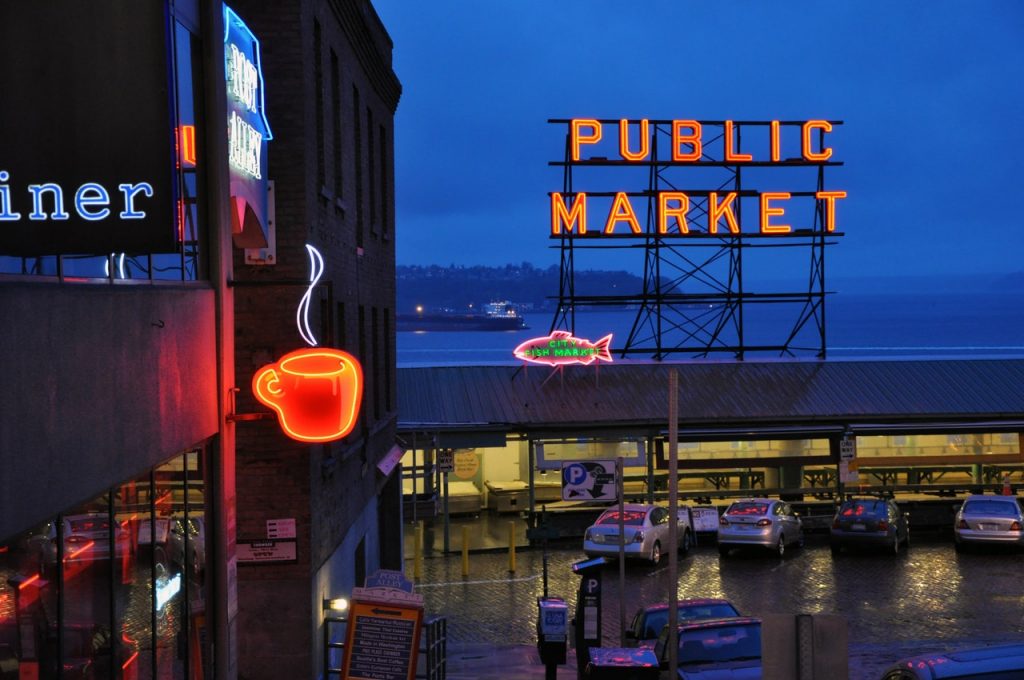 Many people choose to start their road trip out west on the coast of America. California, Oregon, and Washington are the three most popular states to start a road trip in. As a family, we think that there is no better starting point than Washington's Seattle. Before you jump in the car and head off, you can grab something to eat at the city's infamous Pike Place Market. This public market is known for its amazing fish stalls, but you will also be able to grab delicious sandwiches, large slices of pizza, and freshly baked treats. Once you've all had your fill, you can then head out to the Seattle Great Wheel. Taking a ride on the wheel affords you some of the best views of the city.
Portland, Oregon
After enjoying the sights and sounds of Seattle, it's worth heading south into Oregon. You might want to stop off for a night or two in the eclectic city of Portland. On your way to the city, take a quick detour out to Crater Lake. This stunning lake is a popular stop-off point for hikers and birdwatchers. Once you are in Portland itself though, there will certainly be a lot to do. There are plenty of child-friendly things to do in this great city, and one of the top choices with kids has to be the zoo. The Oregon Zoo is home to lots of exotic creatures, including rhinos, bears, and elephants. After a day at the zoo, it's worth heading to the Portland Children's Museum to continue all the fun!
Big Sur, California
Fancy some chill-out time together as a family? If so, there is no better road trip stop-off than California's Big Sur. Kids will love going on horse rides across the beach and exploring the trails in the Andrew Molera State Park. To impress all the adults in your party, take a drive over the impressive Bixby Bridge – I'm sure the amazing views will leave plenty of jaws on the floor! There's plenty more natural beauty to be awestruck by at Comb Sand Dollar Beach and  the gorgeous Point Lobos State Natural Park. This is truly a brilliant destination for any family out there who loves getting right into the middle of nature.
Reno, Nevada
For something a little different, it's worth driving out east to Nevada so that you can visit the thrilling city of Reno. Many people consider this to be the family friendly version of Las Vegas. The kids will love discovering everything there is to know about space at the educational Fleischmann Planetarium, where they can gaze up at the stars above. Alternatively, you might want to take your clan to the Nevada Museum of Art to see some cool artworks by both local and international creatives. If your kids ever need to blow off some energy, then take them to the Roller Kingdom, where they can spend a couple of hours whizzing around the roller skating rink.
Grand Canyon Village, Arizona
Possibly one of the most popular and famous sights of the whole of the USA has to be the Grand Canyon. There are various ways you can experience this awe-inspiring natural landmark, such as by taking a helicopter ride or bus trip from nearby Las Vegas. But there is no better way to experience this site than by traveling to Grand Canyon Village. You'll find some of the best vantage points of the canyon in the village, as well as a selection of eateries where you can grab a quick bite to eat before heading out on the road again. Don't forget to stop off at the Grand Canyon Railway Depot before you leave, though, as it's a great throwback to the former glory of the railways.
Santa Fe, New Mexico

Santa Fe is known for many things, including its fascinating architecture, laid-back culture, and incredible structures. But it is also known as a very family-friendly city too! The Santa Fe Children's Museum is a delight, and kids will find a lot of interactive exhibitions that they can get hands-on with. If you have any future artists in the family, then you might want to inspire them with a trip to the Georgia O'Keeffe Museum. The artist, known for her paintings of large flowers, died in the city in the 1980s and the museum has been open to the public ever since.
Austin, Texas
Austin is the state capital of Texas, so you can guarantee that there is plenty to see and do in the city. It has a fantastic live music scene, so it might be worth hiring a babysitter one night so that you can escape to take in a fun gig. In fact, there are quite a few family-friendly gig venues dotted around the city that you might want to take the kids to as well. If music isn't your kind of thing, it's worth spending an hour or so at the Inner Space Cavern. It's a large natural cavern that was discovered during the construction of a motorway. There are lots of guided tours of the cave which will teach you a lot about the various natural formations in the cave.
St. Louis, Missouri
Missouri might not be high on most tourist's to-do lists when visiting the USA, but it's still worth heading to on your road trip. And that's all because of the city of St. Louis. This city is perfectly placed so you are only a short drive from the likes of www.hermannwinetrail.com/ which is a great trail for families who love to hike. You're also not too far from the epic Mississippi River. There's also plenty to see in the city as well, such as going for a wander around the Missouri Botanical Gardens and checking out the Museum at the Gateway Arch. The City Museum also has a fun play area and discovery center that are perfect for the kids to spend a few hours in.
Memphis, Tennessee
When you think of Memphis, you probably think of all the cool music that has come out of the city over the past few decades. I mean, just look at the cool tracks listed o www.discogs.com/. It's true that it's a haven for music lovers, but it's also a great destination for families as well. For instance, kids will really enjoy going on a Mississippi River Cruise, especially if you take one of the old paddle steamers. Another top family attraction in Memphis has to be the Peabody Hotel ducks. The ducks parade through the hotel lobby along a red carpet and then ride an elevator up to the rooftop twice a day, every day. You better get there early if you want a good view of the ducks as they attract quite a crowd!
Philadelphia, Pennsylvania
Once you make out it out east, it's worth driving to Philadelphia in Pennsylvania. The Adventure Aquarium is a great stop, and the little ones will love coming face to face with hippopotamuses and other curious sea creatures. For an educational day out, why not visit the Franklin Institute Science Museum, where they can see some enthralling exhibitions. Smith Playground is also a brilliant attraction for children under the age of ten, and features a large century old slide.
New York City, New York
Let's not forget about NYC! This existing city has so much, that I'm sure you will find plenty to do with the kids. From wandering around Central Park to taking in the epic views from the top of the Empire State Building!
As you can see, there are tons of great child-friendly destinations dotted around the USA. Looks like it's time to pack up the car and head off on a road trip!
Photo Credit: Mojitos and Munchkins, architecture, California, Grand Canyon, night shot, cars