When looking for kids' chairs, there are many factors to consider. Will they be comfortable? Are they affordable? Are there various color options? Are they easy to maintain? All of these things are important to contemplate when deciding on the kids' chair that is right for your family.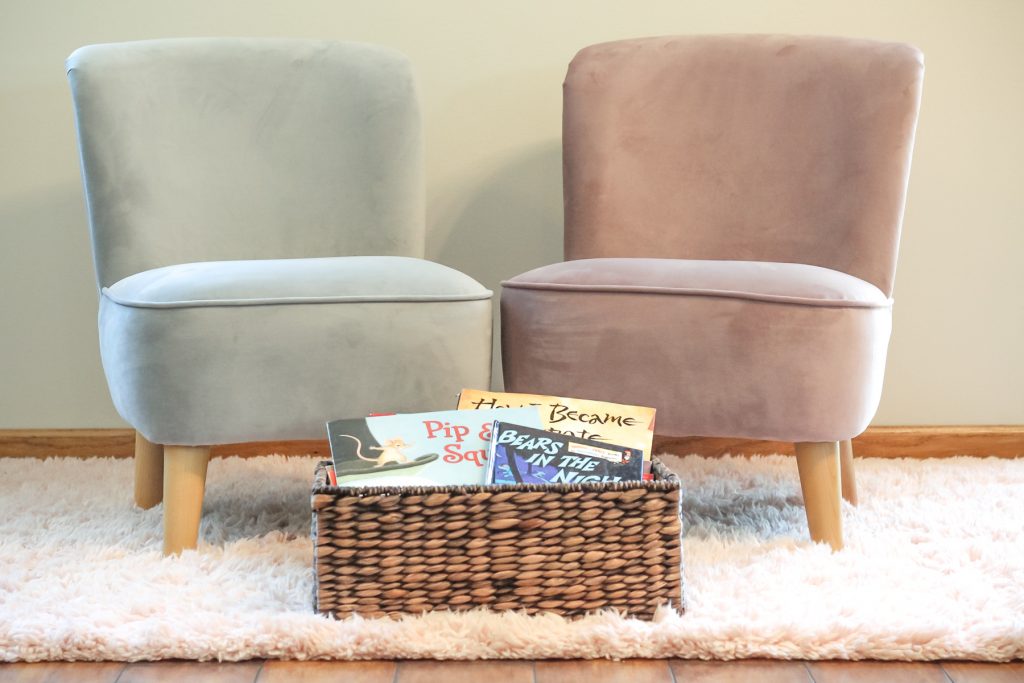 ---
Our Suggestion in a Kids' Chair
We have tested many kids' chairs over the years. Chairs are a staple in our house, and something we are happily willing to make room for. Our family of five believes in comfort, soft and silky textures, and a chair that can withstand frequent flops and playing the role of an occasional racetrack. From beanbags to gliders, rockers to fold-outs, we've tried them all. The kids' chair that has ultimately claimed the spot of our favorite goes by the name of Juni Ultra Comfort Kids' Chair.
---
Why We Love Juni Ultra Comfort Kids' Chair
Texture. They say a picture is worth a thousand words. I truly believe that you can feel the softness in the photos. Each chair is silky soft, incredibly smooth, and ultra plush. When you sit in the Juni Ultra Comfort Kids' Chair, you first notice the soft cushion feel beneath you. One brush of your fingers against the polyester blend material and you'll know this chair was designed just for you.
Color combinations that work. From the get-go, we fell in love with the many color choices that the Juni Ultra Comfort Kids' Chair comes in. No joke, we could have claimed various spots around our house in every color option.
Comfort. This kids' chair allows you to sink right in. With the slight curvature within the back portion of the chair, you can settle in and feel secure within the parameters. The foam filled cushion is the perfect proportion of comfort and stability. The steady wooden legs serve as more than just an iconic and timeless accessory. They are also the foundation that holds the stabilizing force to withstand running children and exhausted grown-ups alike. 
Convenience. This chair is sold at Wayfair, one of the world's largest online shopping centers for home goods. Wayfair is known for their quality times at unbeatable prices, and for hooking customers up with the perfect products to fit their needs. This chair is also available through local stores in areas across the country.
Easy Clean-Up. The chairs are easy to clean up, even when young artists use the seat as their own personal canvas. Shortly after welcoming the chairs into our home, our toddler accidentally got marker on the seat. I was devastated, until it all easily came off with just a wet wipe. Whew! This easy to clean finish made me love the chairs even more than I already did. 
Price. We love all of the above reasons but at the end of the day, we are still a young family of five. The affordability of a product is always a sticking point with our family. Thankfully, with this particular kids' chair, we were able to match our high expectations with an affordable price.
---
A Kids' Chair That Will Bring Comfort and Coziness
---
5 Perfect Fits
We ultimately decided that we need a few of these chairs in every room of our house. It is truly the only way to be comfortable in all areas of our home. No joke, this chair can't be beat. We have had it in a few different areas, and have realized there is more than one perfect fit for this most perfect kids' chair.
Reading Nook. These chairs would be ideal in a reading nook area, or reading corner. They are enticing because they have a comfortable feel while maintaining a modern and stylish look. Curling up with a good book is a wonderful way to spend time, and curling up on these specific chairs is a double win.
Child's Bedroom. Any child would be lucky to have this adorn their bedroom. Because it comes in an assortment of colors, it is easy to match to various decor. It is also easy to get as a set whether you choose matching or different colors. One thing is certain: Kids will definitely utilize the chair enough to warrant their own.
Family Room. Why should grown-ups have all of the furniture fun? They don't have to with these kids' chairs, as children are more than spoiled with pint-sized options that come with style, satisfaction and snugness.
Nursery. This kids' chair would look amazing in a nursery, no matter the decor or theme. If a woodland theme is your style, a butterscotch kids' chair would be the perfect accent for foxes and owls. Perhaps your gender neutral decor is looking for a pop of color amongst the neutral tones? Entertain the idea of a color grabbing green apple.
Office. Most home offices are equipped with desks and computers, bookshelves and filing cabinets. A wonderful way to add modern and functional design, good for both adults and grown-ups, would be the Juni Ultra Comfort Kids' Chair.
A Bit About Karla DuBois
I am a sucker for not only learning about products, but learning about the companies behind the product as well. Why take the time you ask? I take the time because I go back to brands that I connect with. I love the story behind Karla DuBois and am thrilled to share it with my Mojitos and Munchkins readers. Karla DuBois has over 30 years of experience in the baby furniture business. They stand on the principal that furniture should be safe for our children, eco-friendly for our planet, and intuitive in design for our modern world. 
Check out all of the details on this amazing kids' chair on Wayfair | Karla Dubois Website | Instagram | Facebook
Now that you've seen the beautiful kids' chairs in our lives, check out some other things we love with 10 Beautiful Things in my Life. As you know, my kids are my lifeline. See what questions I ask them every night.
Photo Credit: Mojitos and Munchkins
Mojitos and Munchkins may have received products in exchange for an honest review. All opinions are mine.